The Netherlands foresees a great future for laser satellite communication. That is why our country is investing heavily in this new technology. A first milestone is the launch of SmallCAT, an experimental satellite instrument that can send data from space to earth via laser light. SmallCAT will be launched into space SpaceX's Falcon 9 on Tuesday, April 11 at 8:48 a.m. Dutch time aboard the Norwegian satellite NorSat-TD. An agreement between the space agencies NSO from the Netherlands and NOSA from Norway, making this launch possible was signed already in January 2021.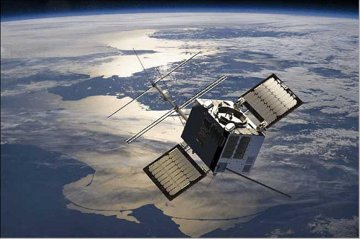 Artist impression NorSat TD (credits: SFL) Much interest
The Dutch instrument SmallCAT (Small Communication Active Terminal) was developed by TNO in cooperation with AAC Hyperion and the Ministry of Defense. The ministry sees great advantages in communicating via laser instead of radio. Radio frequencies are becoming increasingly scarce. Moreover, a connection via laser light can contain more data and be better encrypted. This makes it more difficult to eavesdrop or disrupt.
The SmallCAT instrument connects to a specially developed optical receiver - a kind of telescope - in The Hague. 'If everything goes according to plan, we expect to establish the first connection in two months,' says Bert Meijvogel of the NSO. 'Then we will see for the first time how stable such a laser connection with space is and how much data you can send with it.'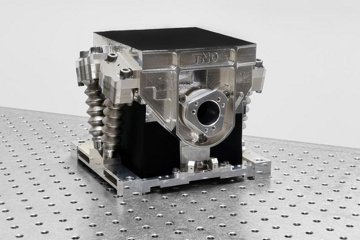 SmallCAT (image: TNO) Once the Netherlands has tested the capabilities of SmallCAT, the instrument can also be used by other countries for testing with their ground stations. Meijvogel: 'We have already seen a lot of interest from other European countries. This underlines that laser satellite communication has a great future and that the Netherlands is one of the forerunners in the development of this technology.
ARTES and Growth Fund
The development of SmallCAT was funded in part by NSO resources from the ESA-ARTES program and by the Ministry of Defense from their innovation budget. In the coming years, in addition to funds from the Dutch space budget, funding for the development of laser satellite communication will also be available from the National Growth Fund. This is one of the components of the NXTGEN HIGHTECH project proposal, which has been allocated a total of 450 million euros.
TNO and AAC Hyperion also foresee a rapidly increasing interest in laser communication worldwide. Initially between small satellites and Earth, later possibly also between ships or between aircraft and the ground. By demonstrating with SmallCAT that the Netherlands can provide end-to-end solutions, our country is one of the forerunners in this field. And that offers great opportunities for Dutch industry in the future.
More: