What role can satellite data play in biodiversity conservation and water management? That was the central question at the E-shape solutions workshop held Feb. 14 and 15 at NSO in The Hague. The lively meeting was organized by NSO, in close cooperation with Eurisy and attended by over seventy people.
The two-day event in The Hague is part of the international series of workshops designed to promote the use of satellite data. Of the various sustainability goals the E-shape proje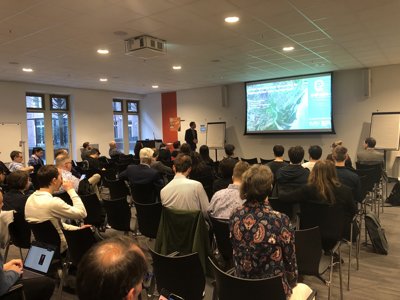 Harm van de Wetering, Director NSO, emphasizes the importance of collaboration between the developers of services and end users. ct serves, this time biodiversity and water took center stage. 'These are still very broad topics,' said Coco Antonissen of the NSO. 'The workshop was meant to elaborate on them and explore how satellite information can contribute to solutions. Because of the diverse audience, a mix of people from government, science and business, that worked out well.'
Early collaboration
Harm van de Wetering, director of NSO, set the tone in his opening remarks. He emphasized that meaningful satellite applications arise when developers of services and end users work together from the beginning. This is what happened during the workshop. Concrete questions came from the Ministry of LNV and the Delta Committee, among others. ESA and NSO presented financing possibilities to get innovative applications off the ground.
Then the group went into depth with various presentations. For example, the Dutch company Water Insight showed how it is researching the water quality of the Lauwersmeer with the Noorderzijlvest Water Board. Wageningen University and Deltares presented a model that detects changes in land cover, from which you can in turn deduce the consequences for biodiversity. Satellite data play a crucial role in both projects.
Satellites in policy
Despite a full program, there was ample opportunity for participants to exchange views on the potential of satellite data. 'A substantive conversation really emerged,' Antonissen said. 'That led to inspiration. In the near future, NSO, together with all stakeholders, will explore how earth observation satellites can make a meaningful contribution to societal challenges that are very relevant to the Netherlands.'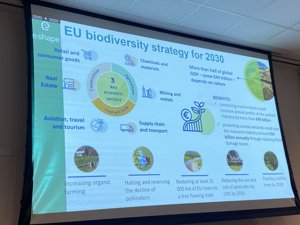 Presentations by the government, scientists and industry showed different perspectives on biodiversity and water management Annalisa Donati, secretary general of Eurisy, also looks back on a successful meeting: 'The Netherlands is one of the most active countries when it comes to the development of innovative satellite applications. But even here there is still room for improvement. My conclusion based on the workshop is that you cannot recognize the benefits of satellite data early enough. Ideally, the value of satellite information should already be named in government policy.
About Eurisy
Eurisy is a non-governmental organization dedicated to promoting the use of satellite data in Europe and beyond. NSO is a member of Eurisy and is represented in its council. Both organizations share the same objective: to promote the use of space for society.