The Dutch space sector was well represented at the Space Tech Expo in Bremen this week. The annual exhibition is a regular fixture for a number of Dutch companies and institutions, but this year also saw many new companies who wanted to profile themselves under the NL Space branding. Together with the association of space industry SpaceNed, NSO facilitated with the now well-known NL Space pavilion.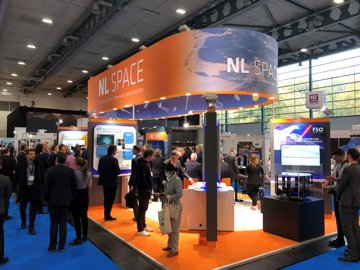 NL Space Pavilion at IAC Hundreds of stands in three halls, staffed by five thousand people from the international space industry. Lots of black, white and blue on boards with straight corners and sleek logos. And one big, colourful pavilion with lots of orange and round shapes. The NL Space pavilion, featuring S&T, FSO, Avatar, Cosine, Westend, NL Space campus, Aerospace Delta, Sparkwing and NLR was not to be missed at the Space Tech Expo. TNO, Dawn, Airborne, DARE and ISISPACE had their own large stands elsewhere at the exhibition.
Commercial business
Ben van Berge Henegouwen, director of West End, sees the fair as a unique opportunity: 'I like to be part of the NL Space community. At this fair, I quickly discover the latest developments in space. In addition, you notice that people have time here. I was able to talk substantively for two hours with an important Dutch relation. Often this is not possible in the Netherlands, with all our busy schedules.
'In three days you can meet five thousand people here,' says SpaceNed chairman Jeroen Rotteveel. 'If you talk to a hundred of those people, you probably come home with a hundred new ideas. A few of them evolve into concrete opportunities.' According to Rotteveel, these kinds of fairs are precisely where Dutch companies have a lot to gain: 'Space has become an international, commercial business.'
Good examples of that new space come, among others, from Cosine, which is at the NL Space pavilion with Hyperscout-2. This small but incredibly smart satellite instrument observes the earth in different wavelengths and can thus help detect natural disasters, vegetation, soil moisture, water quality and heat islands, among other things. Also represented on the pavilion: Sparkwing. This is the world's first catalogue of standardised, commercial solar panels for small satellites, developed by Airbus Netherlands with support from the NSO.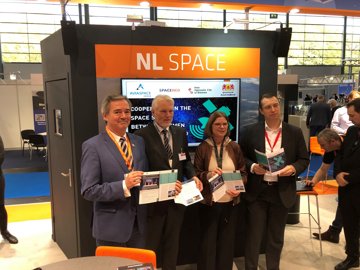 Presentation Action agenda 2.0, with (starting left)): regional minister South Holland Meindert Stolk, CEO Aviaspace Holger Oelze, Senatorin für Wirtschaft, Arbeit und Europa Kristina Vogt and chair SpaceNed Jeroen Rotteveel. From South Holland to the moon
The Space Tech Expo is also a time to make announcements. At a side event, the Province of South Holland and the State of Bremen presented their Action Agenda 2.0, which includes plans for cooperation in innovation and student exchange. 'This fair is a great moment to come together and one of the regular appointments in our agendas,' said Renate Beausoleil of the province of South Holland. ATG and the Radboud Radio Lab signed a letter of intent in the NL Space pavilion to work together on a radio telescope on the backside of the moon. Because it is precisely in that unique location that we can receive radiation from the early universe, which tells us something about the period between the Big Bang and the formation of the first stars.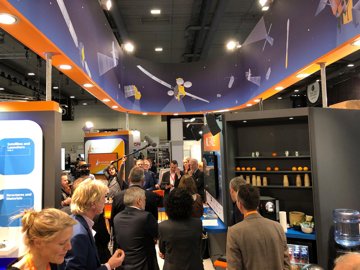 New opportunities in 30 seconds
Room for new growth, there was also. NL Space Campus seized the Space Tech Expo to organise a networking event, together with SBIC Noordwijk and ESA BIC North Germany: Connecting the Curious. Especially for the not so usual suspects, says community manager Maaike Smelter: 'At the fair, you mainly meet the established order. We want to open it up to young professionals and start-ups. '.
At café Lugger, around the corner from the expo, the stairs served as a stage. From the tenth step, young people from the Netherlands and Germany pitched exciting ideas in no more than 30 seconds. They want to make ten times lighter material for satellites, develop a new generation of Mars rovers, build a positioning system for satellites based on drone technology and reduce the operational costs of satellites by a factor of five. After each pitch, loud applause sounded and then there were drinks to discuss further how to achieve all that: new opportunities for the Dutch space sector.