The Netherlands had the role of guest country during the Bangalore Space Expo in India taking place this week. Both countries have been working together in the field of space since 2014. At the Bangalore Space Expo, this cooperation will be celebrated and further expanded.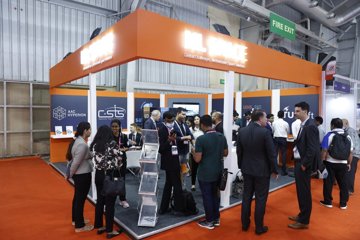 A crowded NL Space Pavilion at the Bangalore Space Expo.
India has a thriving space industry. It has tripled in the last 12 years to reach a turnover of almost 1.9 billion euros in 2021. Indian technology is among the most innovative in the world and Indian launchers among the most reliable.
It was because of the Indian launcher capacity that TU Delft came into contact with ISRO, the Indian space organisation, in 2008. Students were building their own satellite, DelfiC3, and India was able to launch it. Later on, this collaboration was extended to experiments on Indian small satellites and the link between those satellites and the ground. 'We have excellent relations with ISRO,' says Chris Verhoeven, associate professor at TU Delft. 'The cooperation is smooth and on an equal basis'.
NL Space pavilion
TU Delft is part of a group of Dutch companies and institutions that will be presenting themselves with an NL Space pavilion at the Bangalore Space Expo. Verhoeven: 'India is a country with a lot of activity in the space sector. There are small, smart companies that work well together. You shouldn't go for a quick deal, but really build up a relationship. Once you have a relationship based on trust, it is very pleasant to work together. That's why it's so important that after two years of corona crisis we can now see each other live again.
Other Dutch space parties travelling to the Bangalore Space Expo are Lens R&D, satsearch, AAC Clyde Space, Celestia STS and Airbus Netherlands . Together with NSO, they will present themselves at the NL Space pavilion, the place where the Dutch ambassador to India, Marten van den Berg, will also make his appearance.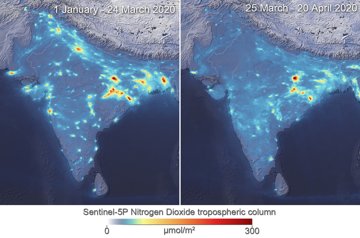 Air quality measurements of the Dutch satellite instrument Tropomi are of great value for India. (image: ESA) Huge demand for small satellites
Akanksha Sharma is looking forward to the role the Netherlands will play at the Indian Space Expo. She is senior policy officer at the Netherlands Innovation Network in Bangalore and sees the interest of Indian industry in the Netherlands increasing. 'Since that first launch of DelfiC3 in 2008 on an ISRO rocket, the Netherlands and India have had a good cooperation programme. An important topic is the use of satellite applications to combat air pollution. But there is also a great deal of interest in Dutch knowledge and technology in India in the field of water management and spatial planning.
Together with the Innovation Network, Sharma shows where the opportunities lie for Dutch companies: 'A number of Dutch companies have already gained access to the Indian market. In India, there is a great need for the space technology and expertise that the Netherlands has built up. Especially in the field of small satellites and technological innovation. This offers opportunities for alumni of TU Delft, for start-ups and also for larger industrial parties and knowledge institutions. I expect that the cooperation, which is now almost ten years old, will continue to increase in the future.
More information
The Bangalore Space Expo will take place in the Indian metropolis of Bangalore from 5 to 7 September 2022. More information about the Expo, its activities, speakers and participating companies can be found on the Bangalore Space Expo website: https://www.bsxindia.com/