Open innovation. Those two words neatly sum up what NL Space Campus stands for. Since 2019, director Esther Peters has been developing this international hub for space activities in Noordwijk: "The Campus aims to bring parties in the space sector together with their peers and with other sectors."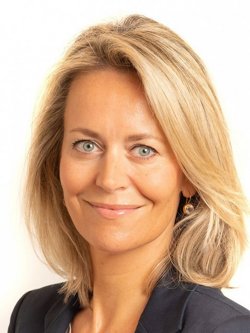 The campus received its final name in 2021: NL Space Campus. Why was this name chosen?
"The Dutch space sector positions itself abroad under the banner of NL Space. It has become a powerful brand that Dutch parties feel comfortable with. We want those same parties to feel very welcome at the campus. It made sense for us to take advantage of the established name of NL Space. It goes well with the role we envision for the campus: to strengthen and unify the Dutch space sector."
How does the campus intend to strengthen the Dutch space sector?
"Studies show that a quarter of the success of high-tech campuses stems from the presence of technical knowledge and innovation strength. For us, ESTEC serves as a source of innovation and technology development. Twenty-six hundred highly trained professionals work there to push the boundaries of what is possible with space technology. Then there are the Galileo Reference Centre, the space incubator SBIC and companies such as Decos and ATG. Many campuses would be jealous of what we - already - have to offer in this regard."
That takes care of the first quarter. What determines the remaining 75% of the success?
"That comes from 'social' innovation. It is the result of sharing and applying knowledge and bringing people together. One of the things you need for this is a place where people can meet up. On purpose and by chance, at the coffee machine, at a lecture or during a workshop. People from the space sector, as well as startups and professionals from other sectors. Our job is to bring together people from the worlds of government, business, education and research."
I expect the coronavirus pandemic did you no favours, did it?
"These last few years, it has been more difficult to facilitate and organise meetings. Above all, we sorely missed those chance meetings that often lead to wonderful new ideas and partnerships. The development of the physical infrastructure also suffered some delays."
What (online) steps did the NL Space Campus manage to take in 2021?
"We have achieved some wonderful concrete results. We created a design for the activation of the area, including a square, pathways, a canopy and a fablab that will be realised in 2022. Every last Thursday of the month, we organise the networking event NL Space Campus Network & Drinks together with several of our partners. At these events, we can see our community grow and new partnerships form. One of those new partnerships is with Leiden University, Delft University of Technology and Erasmus University Rotterdam. We have organised successful Curiosity Events for which researchers submitted challenges concerning e.g. quantum technology and radiation in space. We have also introduced communities of practice."
What is a community of practice?
"It is about sharing practical solutions for a challenge in a specific sector. For example, we invited the bulb growers of Greenport Duin- en Bollenstreek. They wanted to know what they can do with space technology and satellite data. We organised this together with Unmanned Valley, whose work centres around drone technology, and we are already making new plans for the future. During the gathering, it became clear that a combination of drone data and satellite data would offer tremendous added value for the bulb sector."
When will NL Space Campus take physical form?
"In a way, it already has. Just look at e.g. ESA ESTEC, the Galileo Reference Centre, space incubator SBIC, companies such as ATG and Decos and of course the Space Expo museum, which draws more than one hundred thousand visitors annually. They are all located on the grounds of the NL Space Campus. Of course, we also want a place where we can organise our own activities and facilitate meetings and collaboration. In 2022/2023, we will therefore begin work on the development of a base camp. It will include catering facilities and a fablab where professionals and students from different fields can work on new technology and prototypes."

What activities on campus are you most looking forward to in 2022?
"That would be the LDE NL Space Campus Summer School. It had to be cancelled in 2021 because of the coronavirus. We are giving it another shot in 2022. Students will immerse themselves in the space sector for a whole week, including three days in Noordwijk. They will go on three company visits per day and work on their own space business challenge, the results of which they will present at the end of the week to a panel of experts. It is a great opportunity to expand their CV. In late September, as part of the programme for Leiden European City of Science, the European Space Week will be held in Noordwijk. It is a space festival that offers various activities, including the Industry Space Days and an open day at ESTEC. There are various side events, a hackaton and an XL version of our Network & Drinks. I hereby invite everyone from the space sector to join us!"