The launch of the European Robotic Arm to the International Space Station (ISS) is imminent. Last Monday ERA, developed and built in the Netherlands, was presented to the Dutch media. Around forty people attended the corona proof event at ESA's ESTEC technical centre in Noordwijk, including outgoing State Secretary Mona Keijzer and astronaut André Kuipers. NSO director Harm van de Wetering is happy that the launch is now actually going to happen: 'ERA is a fantastic piece of Dutch high-tech that so many people have worked on with pride. It is extremely important and pleasant that we can now also disseminate this widely'.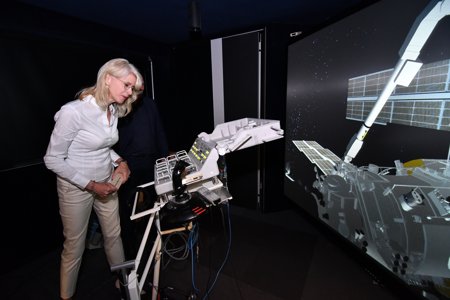 State Secretary Mona Keijzer operating the ERA arm in the simulation rig at ESTEC (Picture: ESA)
According to outgoing State Secretary Mona Keijzer of Economic Affairs, the launch - now scheduled for 21 July - is a milestone for both European and Dutch space industry. The ISS is an extension of our science. It is also an icon of innovation and international cooperation. There is still a lot to learn and discover, which is why we continue to invest in space worldwide, in a European context and therefore also in the Netherlands.
Keijzer addressed in particular the hundreds of people who have contributed to the project over the past 25 years: 'I want to pay you a big compliment for your patience, your perseverance and your cooperation. I am proud of such a strong chain of engineers, developers, policy makers and other indispensable professionals.
Important tasks
Astronaut André Kuipers already took an ERA model into space during his first space flight in 2004. He is pleased that the robotic arm will now actually be attached to the space station. My colleagues Thomas Pesquet, Matthias Maurer and Samantha Cristoforetti will be the first European astronauts to carry out important tasks with the robotic arm. I am sure that ERA will be a great success for them and for all astronauts on board.

Pesquet will check ERA technically, shortly after the launch. Maurer will do the official commissioning and Cristoforetti will use ERA to attach an airlock for scientific experiments to Nauka. The robotic arm will then inspect the exterior of the Russian part of the space station and move scientific experiments from the inside to the outside and back again, without astronauts having to perform a risky spacewalk.

Future trips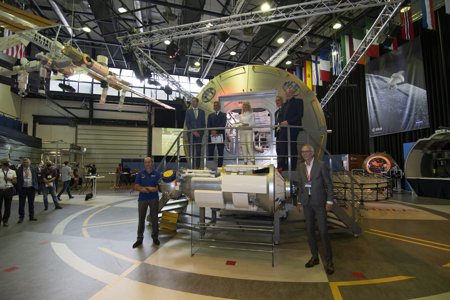 Group photo with model of the Nauka module. Above from left to right: Harm van de Wetering (NSO), Franco Ongaro (ESTEC), Mona Keijzer, Rob Postma (Airbus NL), Andre Kuipers, below Sytze Kampen (l, Airbus NL) and Philippe Schoonejans (ESA) (image: ESA) 'We are very pleased that ESA astronauts will be working with this largely Dutch robotic arm in the near future,' said Philippe Schoonejans, who is in charge of the ERA project at ESA. We don't just want to deliver the robot arm, we want to use it to gain knowledge and experience in the field of robotics. After all, we will need this during future trips to the moon and Mars.
Sytze Kampen, ERA project manager at the main contractor Airbus Defence and Space Netherlands, explained the challenges ERA faces in space, especially in terms of safety. It is an arm full of safety measures. But thanks to a lot of automation it can accomplish very complex missions with relatively simple commands.
State Secretary Keijzer experienced how this works in the Telerobotics & Haptics laboratory, where ERA components are set up for training purposes. Using the specially developed operating system, she gave a command, after which the 'wrist' of the robot arm started to turn. In a similar way, astronauts will work with the arm from the space station.
Keijzer was clearly enthusiastic about the ERA mission, which is important for the Netherlands: 'In about two weeks, the time will finally come to launch from Bajkonur in Kazakhstan. I cannot wait. I have every confidence and wishes you all much success with this, well, mindblowing mission.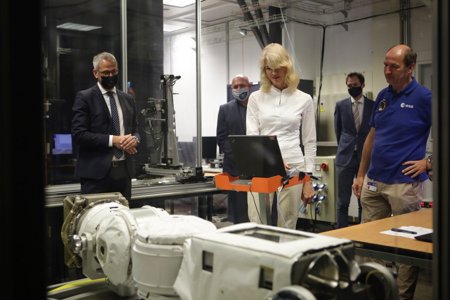 Secretary of State Mona Keijzer receiving a demonstration of ERA's wrist joint (Image: Sander Koenen)