From today, the Dutch Satellite Data Portal boasts a large number of new features, an updated design and greater ease of use. With this update, the NSO continues to invest in the successful data portal, which gives Dutch citizens, businesses and - a new addition - educational institutions free access to satellite images.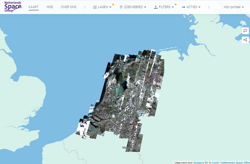 The renewed satellite data portal | www.satellietdataportaal.nl
The Satellite Data Portal was established in 2012. Initially, it was little more than an FTP server that contained raw satellite data, purchased by the NSO on behalf of the former Ministry of Economic Affairs, Agriculture and Innovation. The data allowed Dutch businesses to properly prepare for the arrival of ESA's Copernicus earth observation satellites. However, it quickly became clear that other parties, including (local) governments and inspectorates, were also interested in the data. In 2015, the portal was therefore given a URL and a facelift. As time went on, the portal's userbase continued to grow.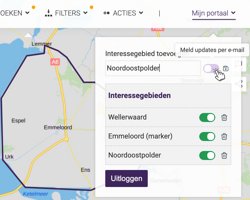 A new feature: saving your areas of interest "Over the course of a few years, we grew from several hundred to nearly two thousand registered users," says Mark Loos, who is responsible for the Satellite Data Portal at the NSO. For example, we saw a growing interest in the data among farmers, who wanted to use the satellite data for precision farming applications, and among various inspectorates, such as the Netherlands Food and Consumer Product Safety Authority (NVWA), the Human Environment and Transport Inspectorate (ILenT) and inspectors working for water authorities, who could use the satellite data to prepare some of their activities in advance, thereby greatly increasing the efficiency of their on-site inspections."
Satellites detect flooded rivers
In order to expand the Satellite Data Portal's userbase even further, it has received another major update. From 1 July, the portal will become more user-friendly and appealing. It is possible to monitor changes across seasons or even longer periods of time and create timelapse videos of the results. New data in the near-infrared spectrum make it easier to distinguish between the built environment and vegetation.
The portal now also includes so-called user stories: examples of the many possible applications of satellite data. For example, it contains a map of nitrogen dioxide concentrations in the Netherlands in 2019, along with a link to even more maps created with data from the Dutch satellite instrument Tropomi. Radar data clearly shows the waterline of flooding rivers. Wageningen University & Research was even able to detect a mice infestation in the province of Friesland using their satellite based vegetation monitoring system.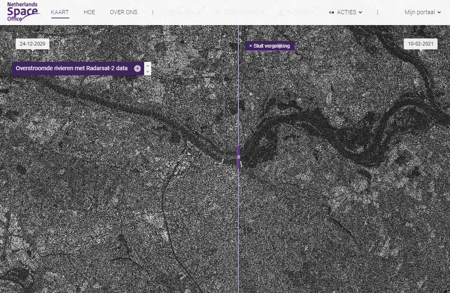 User story about flooded rivers with Radarsat-2 data.
Students welcome
Students are an important demographic for the new and improved Satellite Data Portal. In collaboration with ESERO, the NSO developed two educational programmes that make use of the portal. New lessons will be added in the future. This is a good way to introduce more young people to the many possibilities that space has to offer.
Loos: "With this update, we want to raise even more awareness of the enormous potential of satellite data. We want the general public to know that satellites are not only used to take pretty pictures, but that you can use the data from those pictures for myriad incredibly useful purposes. We invite people to have a look around the portal. Discover what you can do with satellite data and share your findings via email and social media. That's one more thing that has become a lot easier in this new version of the portal."
More information: