How can you use satellite data from navigation and earth-observation satellites in innovative ways down here on Earth? Three Dutch winners of the European Galileo and Copernicus Masters competitions discuss their ideas.
Yohan Runhaar, Reef Support
"The idea was born during the corona crisis in 2020. Together with a fellow student from Delft University of Technology, I wanted to come up with an idea with the specific aim of taking part in ESA's Copernicus Masters competition. We came up with Reef Support: a way to use satellite data to monitor the health of coral reefs all over the world.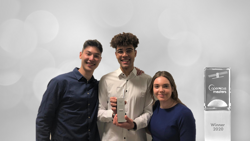 Yohan Runhaar (middle)
In our application, we combine satellite imagery with a learning algorithm that analyses data on water pollution, algae growth, fishing, water temperature and several other variables. The algorithm can determine how the coral reef will develop in the future and where environmentalists must take action to preserve the reef.
We ended up winning first place in the European Copernicus Masters competition with our idea. This gives us the connections and financial means to further develop the idea into a working prototype. We are in contact with the Carmabi Foundation on Curaçao, where we plan to run a pilot project this summer. Afterwards, we will also make the application usable for more complex reefs elsewhere in the world and for coast and water management.
After winning the competition, we registered Reef Support as a business. My hope is that we can expand our efforts in the years to come, so our application will actually be used for nature conservation and the preservation of coral reefs."
Elise van Tilborg, IMARA
"'See change, change the world.' That slogan resonated very strongly with me. It is the slogan of the Planet Challenge of the Copernicus Masters competition. I interpreted it as: how can I have an even greater impact with the work that I do? I was working at the NSO as monitoring coordinator for the G4AW projects. These are projects that use satellite data to improve the lives of farmers in developing countries. My idea has to do with measuring the effects of a project.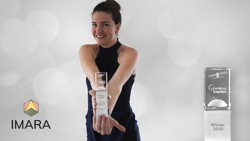 Elise van Tilborg Farmers in places like Africa often possess a wealth of knowledge about their own land. They know what works and what doesn't. They have a vision, in other words. I want to build on that vision and support and expand it with the help of objective satellite data from Planet.
Take a tree-planting project, for example. If you were to plant pine trees in Africa, they would - in theory - be good for the environment. In practice, however, they wouldn't do local farmers much good at all. However, if you plant mango trees, farmers end up with valuable crops. This change drastically increases the impact of the same tree-planting project.
With IMARA, our goal is to examine the stories behind the data coming out of such projects. Where do projects have the biggest impact and why? How can satellite data, such as those from Planet, contribute to a project's success? We will look for the answers to these questions to demonstrate why specific projects benefit people and the environment."
Tamme van der Wal, BioScope
"For nearly thirty years now, my work has been about using satellite data for - in particular - government applications in agriculture. A few years ago, I began looking at this from a different perspective: the farmer's. We want to introduce farmers in an accessible manner to the added value of using satellite data for agricultural purposes.
We gather data from various sources and make them available via the Fieldscout app, which uses satellite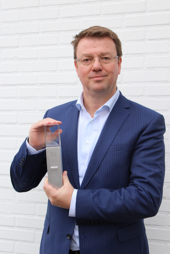 Tamme van der Wal navigation. Farmers can see themselves driving through their fields, while the colour of the map we created in Google Maps gradually changes. They then know exactly where to use more fertiliser or irrigate more. With the help of our application, farmers can reap the benefits of precision farming even without any knowledge of technology or satellites. This leads to lower costs and better harvests.
Navigation - knowing exactly where farmers are - is a crucial aspect of our app. That is what won us the Dutch Galileo Masters award, which is about applications for the European satellite navigation system Galileo. We are absolutely thrilled with this award. Besides some invaluable appreciation and attention for our work, we also receive input from SBIC, the space incubator in Noordwijk. Hopefully, this will help us expedite the development of our company. Our goal is to allow many more farmers to use satellite data while working their fields."
More information about the Galileo and Copernicus Masters competitions.