All four solar arrays from the Netherlands have been installed on NASA's Orion Spacecraft. That is what NASA administrator Jim Bridenstine announced last week through twitter, expressing his appreciation for the team. The solar arrays are part of the European Service Module (ESM), the European Space Agency (ESA) contributes to the Orion Spacecraft.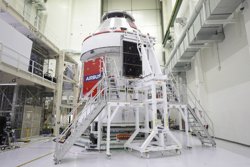 Source: NASA
Orion is the new American spacecraft for human exploration that is designed for bringing astronauts to the moon and beyond. The ESM gives the propulsion of the spacecraft as well as the water, oxygen, nitrogen, heat management ánd the electricity via the solar arrays.
The first, unmanned, testflight (Artemis 1) is scheduled for the second half of 2021. Artemis 2, scheduled for 2023, will be the first manned flight in this spacecraft orbiting the moon. Dutch solar arrays will be used for both flights. These solar arrays are build bij Airbus Netherlands in Leiden and financed via the Dutch contribution to the exploration programme of ESA.
Deze animatie van ESA laat goed zien hoe de zonnepanelen tijdens de reis naar de maan hun werk gaan doen.