Astronaut André Kuipers is looking for students from vocational and higher education for his new mission: NL MOONSHOTS '24. This was announced by André Kuipers during a press conference at the ESA Open Day at ESTEC. This programme offers student teams the unique opportunity to work - coached by an astronaut - on a great idea for mankind, a moonshot. NL MOONSHOTS '24 is being organised as part of the 35th ASE Planetary Congress, for which over 100 astronauts will come to the Netherlands next year.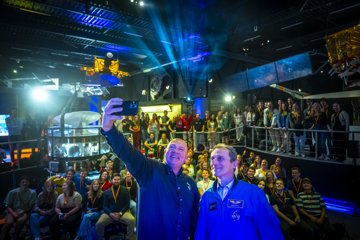 Astronauts André Kuipers and Pedro Duque taking a selfie with 100 students during the MOONSHOTS college tour session in Space expo. NL MOONSHOTS '24 challenges students of all levels to develop their own moonshot: a smart, innovative solution to a challenge we face as a society. Inspired by the unique perspective of an astronaut in space, moonshots can be about anything: from Earth and humanity to technology, artificial intelligence and more.
Participating student teams get access to inspiring events and the right expertise and facilities to develop their moonshot in phases. Astronauts are involved as coaches and experts. For students, this creates a special journey from initial idea in January to the presentation of concrete concepts and prototypes at the ASE congress in October 2024.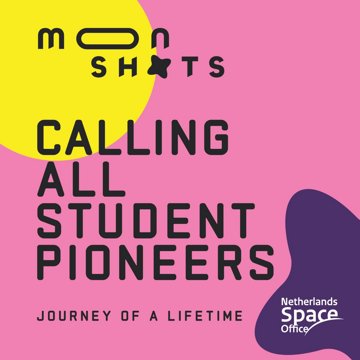 ASE Planetary Congress
The Association of Space Explorers (ASE) is an association of more than 400 astronauts from 38 different countries. With the annual ASE Planetary Congress, they inform a wide audience - especially the younger generation - about the latest developments in space and the possibilities that space offers for the future of our society and planet Earth. In 2024, the congress will take place from 30 September to 6 October 2024 in Noordwijk and Amsterdam.
The programme will include technical sessions. These presentations are largely open to the general public and will be streamed live. The aim is to engage and enthuse as many people as possible about science, technology, innovation, sustainability and the space sector.
During the congress, André Kuipers and fellow astr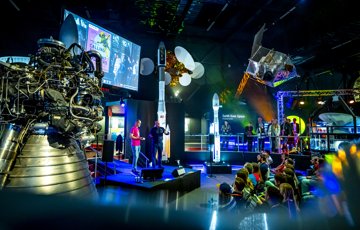 Moonshots College tour session in Space Expo onauts will also launch an assignment for the 2024/2025 school year for all 'Vakkanjers' from primary and secondary schools: Space Challenges! After doing research, the pupils will work with spaceflight and engineering to design and build satellites and rovers. During the traditional Community Day, astronauts will visit educational institutions, knowledge institutes and companies, among others.
'With the NL MOONSHOTS '24 programme, the international astronaut community is giving its stage to the Next Space Generation throughout 2024,' says André Kuipers, astronaut and host of the ASE congress. 'Today's students are our technicians, engineers and scientists of the future. We desperately need these students and their bright ideas to make life on earth better, safer and, above all, more sustainable. I am extremely curious to see what inspiring solutions they will come up with.'
The ASE Planetary Congress 2024 and NL MOONSHOTS '24 are supported by the Netherlands Space Office with funding from the Ministry of Education, Culture and Science and the Ministry of Economic Affairs and Climate. Everyone can follow the proceedings of NL MOONSHOTS '24 via the website moonshots24.nl.