Nico van Putten, deputy director of the NSO until last month, today received the Dutch Space Medal of Honour for his contribution to Dutch space exploration. The medal was presented during his festive farewell at Space Expo in Noordwijk.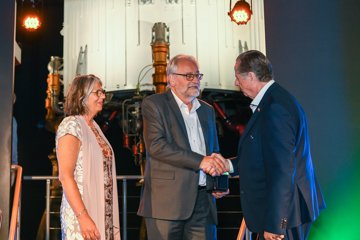 The Dutch Space Medal is awarded by the Netherlands Aerospace Fund (NLF). It is the highest space award in the Netherlands. Astronaut André Kuipers was the first recipient in 2019, Van Putten will receive the second one "for his contribution to the development and profiling of the Dutch space industry.
Chairman of the NLF Anne Cor Groeneveld presented the award. He described Van Putten as 'pragmatic and no-nonsense'. Someone who was always accessible to the Dutch space industry and wanted to help bring space closer to entrepreneurs and the general public.
Space industry ecosystem
Nico Van Putten worked successively at the Ministry of Economic Affairs, Bradford Space and the NSO. For forty years he worked for the development of the space sector in the Netherlands, both for the government and for businesses.
Jeroen Rotteveel, member of the board of NLF and chairman of the industry organization SpaceNed: "Nico is someone who always works in the background, but whose vision and influence cannot be underestimated. Nico knows better than anyone that space is a long-term industry. And that you have to keep looking ahead to be able to achieve successes.'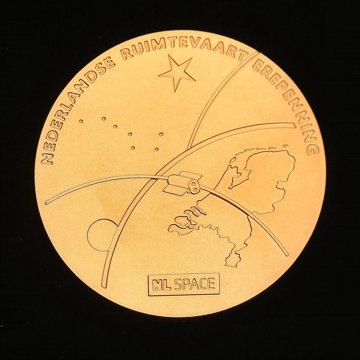 Van Putten's long-term perspective meant that he paid a lot of attention to the 'ecosystem' the Dutch space sector is according to Rotteveel: 'You have to nurture an ecosystem like this with new talent. Nico therefore also devoted himself to student projects, startups, space museum Space Expo and the ESTEC White Paper, from which the NL Space Campus emerged.'
Tireless commitment
The first and until today the only recipient of the Space Medal of Honour, astronaut André Kuipers, had many constructive discussions with Van Putten, including in connection with his space flights. He describes him as driven, clear and realistic. Someone who worked tirelessly to put Dutch spaceflight on the map, both nationally and internationally.
The award is therefore more than deserved, concludes Kuipers. Space is playing an increasingly important role in our daily lives. The Netherlands has a high-quality and innovative space industry, as well as leading science and technology in this field. This enables us to make an important contribution to society. But we desperately need people like Nico to apply this knowledge and expertise and help the industry move forward.'