The Dutch space industry is presenting itself this week in Bremen, Germany, with an NL Space pavilion at Space Tech Expo Europe, the largest space fair in Europe. On the occasion of the fair, NSO, the Province of South Holland, sector organization SpaceNed and the Dutch embassy are organizing two network events and an 'innovation mission'. Ambassador for the Netherlands in Germany Ronald van Roeden visited the companies in the NL Space pavilion on Tuesday morning: "It is great to see that the royal visit to Bremen in 2019 has further strengthened Dutch-German cooperation in space."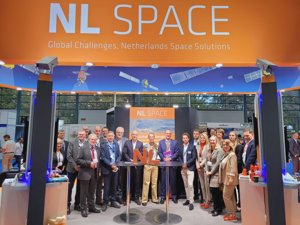 Ambassador Ronald van Roeden visited the companies in the NL Space pavilion on Tuesday morning Space Tech Expo Europe has traditionally been a trade fair for companies and organizations that develop hardware for aerospace. This time, thanks to the Dutch innovation mission, attention is also being paid to the application of satellite data for the themes 'water' and 'infrastructure'. "It's mainly about getting to know each other and creating opportunities," says Kees Oude Lenferink of NSO. "On the Dutch and German side, companies can show what they have to offer. This may lead to new innovations and concrete collaborations in the future."
The innovation mission has twelve participants from eight Dutch companies and organizations. During a matchmaking event on Monday, they became acquainted with German parties active in maritime infrastructure, logistics, energy and safety. Tuesday November was dominated by a visit to the DFKI, a renowned institute for artificial intelligence. "The themes we have chosen play a role in both the Netherlands and Germany. We face similar issues and our need for satellite information overlaps. So there are opportunities there," says Oude Lenferink.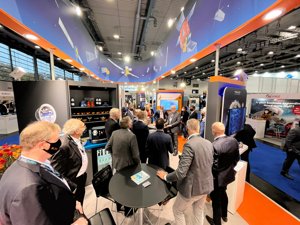 The NL Space pavilion in Bremen. Connecting Space Regions
In 2019, the Province of South Holland, SpaceNed, the Hanseatic City of Bremen and Aviaspace Bremen already started a close collaboration with the Action Agenda for cooperation in the space sector between Bremen and South Holland. Due to the corona crisis, live contacts have not been possible in the past year and a half. That is why these four parties have recently organized a digital event series 'Connecting Space Regions' around a different central theme. The Space Tech Expo is a good opportunity to bring the two communities together again live, says Renate Beausoleil of the Province of South Holland.
A NL Space meetup with German colleagues is scheduled for Tuesday evening during the 'VIP Happy Hour reception' in the Havana Lounge in Bremen. There will be a lot of opportunities there for B2B network conversations. On Wednesday morning, the parties behind the action agenda will organize the Connecting Space Regions 'Business Breakfast Earth Observation', which is entirely devoted to the application of Earth observation satellites.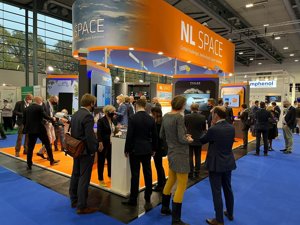 During the breakfast event, companies in the field of Earth observation applications from the Netherlands and Germany, but also other countries, are given the floor to pitch their solutions and there is room to network. The message of the meeting is: know where to find us, so that we can work together on new, innovative satellite applications.
Ambassador Ronald van Roeden sees many opportunities for even more Dutch-German collaboration: "There are many mutual connections between the technologies that German and Dutch companies and institutes are developing. In addition, the Netherlands has a lot to offer in the field of applications of satellite data for, for example, agriculture or measuring changes in the soil."
More information
The following companies and organizations are involved in the NL Space pavilion at the Space Tech Expo Europe this year: Airborne Aerospace, BrightSkies, CGI Nederland, FSO Instruments (GTM, VDL, Demco), Thales Cryogenics, InnovationQuarter, OPT/NET BV, SLTN , NL Space Campus, NLR, NSO and TNO.