A unique opportunity for Dutch space companies, innovative startups, doctoral candidates and knowledge institutions. That is how Professor Ramon Hanssen describes the International Geoscience and Remote Sensing Symposium (IGARSS) that will be held from 11 to 16 July 2021 in Belgium, the Netherlands and online.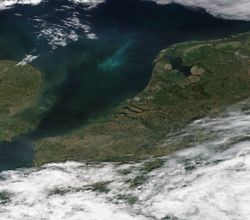 IGARSS is the foremost annual international symposium for the combination of remote sensing (earth observation) and geosciences. Previous editions of the symposium were held in America, China, Japan and Australia. In 2021, Belgium and the Netherlands will co-host the aptly themed "Crossing Borders" symposium.
The two countries were chosen as hosts for their strong ties to the scientific field in question. The EU's Copernicus programme is managed from Brussels. The Netherlands is home to ESA's ESTEC technical centre, where many European earth observation satellites are designed and tested before being sent into space. Around these major centres, an entire ecosystem has formed with businesses and knowledge institutions that work on the development of earth observation satellites and new applications for the data they gather.
Programme
Among the topics to be discussed at IGARSS 2021 are socially relevant challenges such as climate change, the energy transition, the food problem, migration and pandemics. There will also be a focus on smart and green cities and on the collaboration between earth observation satellites, drones and navigation systems such as GPS and Galileo.
"These are all areas in which Dutch businesses and researchers are highly active," says Kathelijne Beenen, satellite application consultant at the Netherlands Space Office (NSO). "It is important that we show the rest of the world what we are doing here. That is why the NSO is part of the organisation committee. Over the next few months, we will be asking the entire field to take part; from established players to young entrepreneurs with new ideas."
Low threshold for participation
"Our goal is to also give students, doctoral candidates and young, innovative businesses a platform this year," says Ramon Hanssen, co-chair of the organisation committee.
"The threshold for participation is lower than it was in previous years because we are organising a hybrid symposium. Some parts are physically held in Brussels with excursions to various locations in the Netherlands. Other parts are held o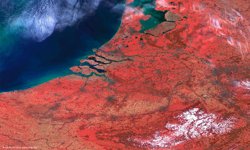 nline, which makes it easier and more affordable for people to take part."
At IGARSS, it is about the future of the field of earth observation. Hanssen: "We are presenting new platforms and instruments, new discoveries. Doctoral candidates, students and startups can catch people's attention with their work. For businesses and institutions, IGARSS presents an ideal opportunity to recruit new talents. However, there are two sides to this coin: The Netherlands is heavily involved in research and development in this sector. This event gives the industry a chance to show the world what it is doing and what innovations are being developed."
Call to action
From one week before the start of the symposium until one week after its conclusion, IGARSS will organise a range of activities with the sector. Part of the schedule has already been published on the website. The rest has yet to be filled in. At this stage, Hanssen hopes to hear about initiatives from businesses and institutions, who can sign up via the IGARSS website. "I want to call on everyone in the Dutch space industry to show the world what we are capable of. In the end, all parties - big and small - will benefit from that."
More information:
Website IGARSS 2021
Video IGARSS 2021
IGARSS 2021 on Instagram
Facebook page IGARSS 2021
IGARSS 2021 Twitter account