Together with the European Space Agency (ESA), the Netherlands Space Office (NSO) will continue to invest in the ESA-BIC programme for another six years. This programme provides all manner of support to startups with a solid business plan centred around the use of space technology or satellite data. Furthermore, these businesses can earn a place in the Space Business Innovation Centre (SBIC) on the Space Campus in Noordwijk.
It goes without saying that space is an innovative high-tech field. At the same time, it is the key to myriad solutions for social challenges. A growing number of young creative entrepreneurs and startups succeed at developing promising applications for space technology. "Space technology and satellite data offer enormo


SBIC building in Noordwijk (image: ESA) us potential for the development of a wide range of new business ideas. Recent examples include the development of new smallsats for IoT and monitoring services for urban green spaces. Our country is home to many creative geniuses who are developing interesting new revenue models in this manner," says Harm van de Wetering, director of the NSO. "We therefore want to offer startups with excellent ideas the opportunity to further develop their plans."
NSO does so together with the European Space Agency via ESA's incubation programme in the Netherlands: ESA BIC Noordwijk. Both parties have extended their current contract with the Space Business Innovation Centre Noordwijk (SBIC Noordwijk), the programme's executor, for a period of six years.
BIC stands for "business incubation centre," a place for both novice and experienced entrepreneurs who want to do something in the field of space. A business goes through the incubation programme with the goal of growing into a healthy organisation (and a valuable addition to our society). There are twenty-two such centres throughout Europe. ESA BIC Noordwijk was the first of these BICs to be established. Since 2003, it has supported more than 120 space startups.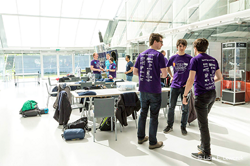 Local differences
No two BICs are the same and each has its own local partners. Likewise, the exact nature and focus of the programme differs slightly per region. ESA BIC Noordwijk, for example, benefits from being located a literal stone's throw away from ESA's research & development centre ESTEC, at NL Space Campus.
Its location is crucial, as it facilitates rapid and easy access to technical support from the European Space Agency. In addition to support for the technical aspects of aerospace entrepreneurship, the partnership between NSO, ESA and SBIC Noordwijk also allows companies to receive financial and corporate assistance.
Extensive support
Among other things, ESA BIC businesses and startups receive a zero-equity investment. Companies can be reimbursed for a sum of up to €50,000 - spent on research & development and patent applications - without having to give away a percentage of their business. Entrepreneurs also receive support in the form of workshops, training programmes and coaches.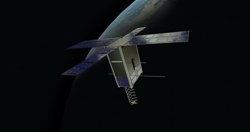 Satellite of former startup Hiber (image: Hiber) The new contract formally covers the period from 2020 to 2024. Any businesses that are admitted into the programme as part of the final batch of 2024 will also receive support for the duration of the programme (two years). Until at least 2026, this makes Noordwijk the place to be for businesses in the Netherlands who are looking for support with their space endeavours.
Frame
Some of the well-known businesses that came out of the ESA BIC Noordwijk programme:

HIBER - a satellite network of smallsats that provides IoT connectivity with global coverage. Last year, the Dutch cabinet selected this company as one of three National Icons. It is one of the few businesses to be developing applications for outer space.
JohanSports - a performance tracker for athletes. It utilises GALILEO, also known as "the European version of GPS." The system is used by e.g. the Dutch hockey association KNHB and football clubs Feyenoord, ADO Den Haag and Panathinaikos.

Sobolt - gathers, processes and interprets data from earth observation satellites and uses this knowledge to e.g. advise municipal governments on the use of urban green areas.
A selection of the businesses that successfully completed the programme recently:
Meds2Go
- a medical device that helps patients keep their medication at the right temperature. It is based on cooling technology that was originally developed for the aerospace sector.
Satsearch
- an online platform that facilitates the supply and demand of aerospace components.
Polariks
- helps wine farmers optimise their yields with the help of hyperspectral cameras mounted on a robot.