Water managers in the Netherlands take measures to make sure the land is neither too dry nor too wet. They do so based on their information about brooks, rivers, banks, fields, sluices, etcetera. It turns out this information is not always up to date. Businesses are now being invited to develop a software application that uses satellite data. This system must automatically detect changes, so data can be updated more easily and appropriate action can be taken more quickly.
"At the moment, it takes a lot of effort to detect the changes that occur in our management area. Think of bushes that grow up to the edge of and into brooks or a contractor who performs their activities in a slightly different manner than what he had received a permit for." Jeroen Waanders of the Drents Overijsselse Delta water authority therefore welcomes any technology that can help improve his department's "mutation detection." "Of course, we use the aerial photographs that the Dutch government has made twice per year, but their frequency is too low to allow for quick action. That makes it difficult for our inspectors to identify undesirable situations. This will improve significantly when they can head out to respond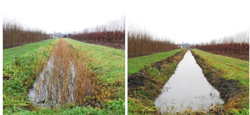 Vegetation development is an example of detected changes in the water system.
Source: de Unie van Waterschappen to concrete signals based on satellite imagery, which is available at least six times per year."
Game changer
The water authority is one of the partners in a project initiated by the Netherlands Space Office (NSO). The invitation to Dutch businesses to develop such a mutation detection system for all water managers has already been sent. After the summer, four yet-to-be-selected businesses will start working on their idea with the help of an innovation grant from the Dutch aerospace budget. Next year, up to two of these businesses will proceed with the development of a prototype.
Waanders' expectations are high: "This would be too big a job for a single water authority, but together we can pull it off. The application that is now being developed will automatically analyse the satellite footage to detect changes. It then indicates what the change entails and when it occurred. These days, there is software that can train itself by learning from what it does. This 'artificial intelligence' must learn to distinguish between as many different situations as possible. That means the more water managers take part in the project by bringing their 'own' problems to the table, the faster the system will become efficient. We have to use each other to become smarter. It will be an enormous game changer!"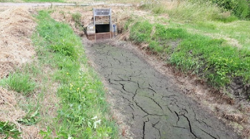 By having a continuous insight into the changes in the water system, changes, such as the drying out of the waterways, can be detected in time using satellite data.
Source: de Unie van Waterschappen
From the heavens
Peter Roumen, who works at Rijkswaterstaat (RWS) and is responsible for innovation regarding licensing, oversight and enforcement, agrees with him. RWS has also tried to detect mutations using aerial photography alone. "First of all, we were forced to conclude that it would take a great many - expensive - aerial photography flights to make this method viable for the Netherlands as a whole. That pilot also taught us the importance of making sure the information is presented using the same software that our inspectors are already used to. Having to adopt an entirely new programme would cost even more energy and time."
That time is simply not available, partly because many of the employees working at Rijkswaterstaat and the water authorities are retiring. When the project is complete, the inspectors can do their job more effectively because they can already tell what the problem might be by looking at the satellite footage. "Computers will not be taking over their jobs - on the contrary, in fact. They will be able to manage their areas more effectively without any extra effort. This innovation is almost literally a gift from the heavens," Roumen says with a smile.
SBIR
"It will probably take until 2022 before all Dutch water managers can automatically update their information," NSO project leader Mark Loos estimates. Although no one appears to have any doubts, the practical feasibility of the project has yet to be determined as well. A sum of just under half a million euros has been set aside for this project via the SBIR (Small Business Innovation Research) scheme. The NSO uses this scheme to stimulate businesses to develop a new type of service that uses satellite data as a key component to help solve social issues.
Two overarching organisations of water managers are also involved in the SBIR programme: the Waterschapshuis is largely responsible for the IT coordination in the sector, while the knowledge centre STOWA takes care of financial and administrative matters. Rijkswaterstaat and all water authorities will be the primary users of the system. However, its application may soon exceed water management alone. Instead, it may be possible to use the system to oversee all infrastructure that these organisations are responsible for. As Peter Roumen of RWS notes: "We have been given additional tasks: overseeing environmental and construction matters around highways. For our staff, that is entirely different from what they are used to, which are the areas around navigable waterways. Once again, the extra eyes in the sky can make our enforcement and management efforts far more effective." We will know more by the end of next year.