Using satellite technology to give Mother Nature a helping hand in urban environments. That is the mission statement of geoscientist Nadina Galle. Together with three former fellow students, she founded Green City Watch. Shortly after, they won the grand prize in the Copernicus Masters competition, a competition for innovative satellite applications that is also being held this year and will be kicked off internationally by tomorrow.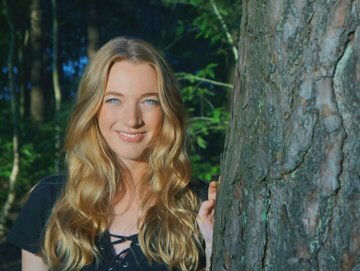 CEO Green City Watch Nadina Galle: "Without Copernicus Masters this application would not have been evolved this way." (image: Green City Watch) Let's go back for a moment. How did this whole adventure begin?
"It started out as an academic side project. I was spending my evenings and weekends on it, together with my fellow students Chris, Jim and Anjelika of the University of Amsterdam. With our idea, we won a challenge issued by the satellite company Maxar. Then came the Copernicus Masters..."
Can you explain what that is, for those who don't know?
"The Copernicus Masters is a competition for people who have come up with an original application for satellite data. More specifically: the data gathered by the European Copernicus earth observation satellites. Those data were exactly what we needed for our idea."
What was your idea?
"Saving trees."
Saving trees?
"Yes. Mainly in urban environments. You often hear about the planting of new trees in cities. That sounds like a good thing, but when it comes down to it, saplings are sources of pollution. They have to be planted, irrigated and cared for. All in all, this process produces more CO2 than the saplings can absorb. A tree in an urban setting only starts having a positive impact on the environment after a decade or so. However, most urban trees do not live longer than thirteen years. Our goal is to preserve older urban trees in particular."
Because older trees do offer CO2 benefits?
"That, and much more. Decades ago, research showed that trees form subterranean connections to each other, for example via fungi. It boosts their immune system and increases their odds of survival. However, as mankind gradually takes over an urban environment, more and more of these connections are severed. A tree in a city is like an orphan. With our technology, we can help give trees in urban environments longer and healthier lives."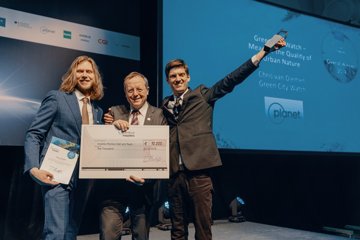 Green City Watch receives the award from ESA DG Jan Wörner. What role do satellite data play in this?
"In many areas, no up-to-date assessment of the tree stock is available. When such an assessment is made, it is done the old-fashioned way: by people heading out themselves. That is a costly and time-consuming process. With satellites, you can quickly make a very thorough assessment of the tree stock in an urban environment. Our use of Planet satellite data is therefore invaluable to tree surgeons, urban foresters and governments who can protect the trees."
What can you actually see from space?
"Individual trees. Their location. Their volume. The state of their health. The size of their trunk. How symmetrical the trunk is, which determines the risk of the tree falling down during a heavy storm. Our goal for a subsequent project is to automatically determine what species a tree belongs to."
"Automatically" being the keyword?

"Our company makes use of geospatial artificial intelligence. In recent years, the quality and availability of satellite data have improved. In order to properly process all those data, you have to use machine learning. The system must learn to recognise things on its own. This method of data processing opens the door to myriad interesting applications, especially with regard to sustainability. Now is the time to get in the game. It is all very exciting."
What role has winning the Copernicus Masters played in your success?
"In addition to the grand prize, we also won the Planet Challenge with our motto 'see change, change the world.' That bought us six months' worth of free satellite data from Planet, along with technical coaching to further develop our plan. This was a major factor in the development of our innovation. Without the Copernicus Masters, our application would not exist in its current form today."
Information and participation
We all know that satellites are used to help us navigate while driving and to warn us of an impending rain shower. What else can be done with satellite data? That is the key question during the Galileo Masters (navigation applications) and Copernicus Masters (earth observation applications) competitions. On behalf of the NSO, the Space Business Innovation Centre (SBIC) Noordwijk organises the European Copernicus and Galileo Masters Competition in the Netherlands. The submission deadline for innovative ideas is 30 June.
Dutch winners of the competition will go on to compete for the European grand prize and they will be rewarded in their own country. They have a chance to win office space in and support from the aerospace incubator SBIC in Noordwijk. If needed, the winners can also receive help with starting their own company. For more information, go to the websites of the Galileo Masters competition and the Copernicus Masters competition.