Do you have an idea for a smart satellite application that utilises either navigation satellites (Galileo) or Earth observation satellites (Copernicus)? Sign up for the Galilei and Copernicus Masters competitions. The winners will get the opportunity to develop their idea into a successful business venture with help from NSO and ESA.
Competition breeds innovation. Just think of the space race of the 1960s, which culminated in the first Moon landing, or the Ansari X prize, which resulted in the world's first commercial spacecraft in 2004. Europe has launched two competitions to aid in the search for innovative ideas that will make it possible to use existing aerospace technology in myriad smart ways in the future.
From A to B – and then?
We all know that satellites show us the way in our cars or on our motorbikes and even when we are walking around in an unfamiliar city. However, the possible applications of satellite navigation technology go way beyond that. For example, take a look at the Dutch company Johan, which won a previous iteration of the Galileo Masters competition. Johan analyses sports achievements using satellite navigation technology and in doing so helps sports teams improve their performances.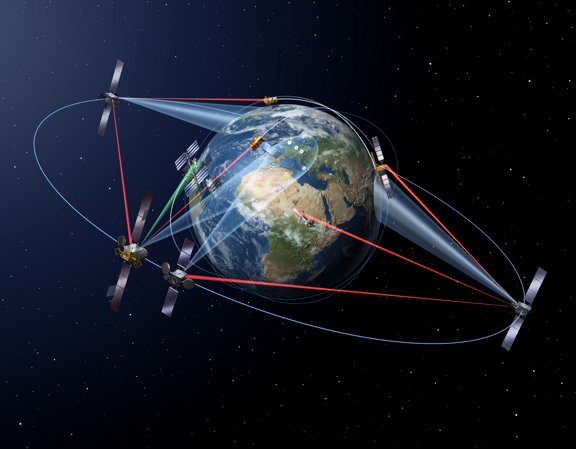 Beeld: ESA
Navigation technology can play a major role in many different sectors. In the healthcare sector, by helping visually impaired people find their way. In the leisure sector, via apps for festivals and holiday destinations. In the infrastructure sector, as an instrument to guard the Dutch dykes. The Galileo Masters competition is all about developing new applications based on the Galileo satellite navigation system.
Monitoring the planet
The Copernicus Masters competition uses satellite data gathered as part of the European Copernicus programme. Our planet is being monitored 24/7. We look at the state of Earth's plant life, oceans, icecaps and atmosphere. Copernicus has many uses, from monitoring air quality to aiding with precision farming and from development aid to climate solutions.
"The possibilities for both competitions are endless," says Bert Meijvogel of the NSO. "We are looking for creative, entrepreneurial people who enjoy pushing the satellite systems that we developed as a society to their limit." Meijvogel believes the Netherlands offers the perfect conditions for participation: "This country offers an excellent business environment for start-ups. On top of that, our society is becoming increasingly aware of the added value that aerospace can offer."
More information and how to participate
There are different categories within each competition. For example, the professional judges are looking for a start-up of the year and there is a regional competition for the best submission from the Netherlands (supported by the NSO). There is a special challenge for universities and there are prizes given out by businesses and organisations such as DLR and Airbus, who are searching for innovation in a specific sector.

Nederlandse winnaars krijgen kantoorruimte in het Space Business Innovation Centre (SBIC) in Noordwijk. (beeld: ESA, Jannes Linders Rotterdam)
Dutch winners of the competition get to compete for the European grand prize, but they will also be rewarded in their own country, e.g. with a sum of money, office space in and support from the aerospace incubator Space Business Innovation Centre (SBIC) Noordwijk, to help them launch their own business.
Visit the websites of the Galileo Masters competition and the Copernicus Masters competition for more information about the competitions themselves and their respective participation requirements.