The fourth European Space Solutions Conference (ESSC) will take place between 30 May and 3 June in the World Forum in The Hague. This international conference, organised by the European Commission and the Netherlands, is dedicated to the European space sector and all its applications. Previous editions were held in Munich (2012), London (2013) and Prague (2014).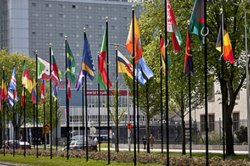 More than 1,000 professionals from the international space sector are expected to visit the World Forum. Conference speakers will include Pieter Geelen, founder of TomTom, Jan Wörner, director general of ESA, Robbie Schingler, co-founder of the American company Planet Labs, and Dirk Smit, vice president of R&D at Shell.
Special sessions and side events will be organised to focus attention on the European satellite programmes Galileo and Copernicus and the opportunities that they provide for a wide range of sectors, from water management and agriculture to security and infrastructure. Of course, Dutch space technology and satellite applications will also be featured in the programme and in the special NL Space exhibition at the World Forum.
The general public will be able to visit the European Space Expo, a travelling space exhibition that will be installed at Het Plein in The Hague. Special programmes for schoolchildren, students and other visitors will be organised between 26 May and 5 June in the domed tent. The exhibition will include programmes on space applications that have benefited our everyday lives, as well as the inspiring story of astronaut André Kuipers.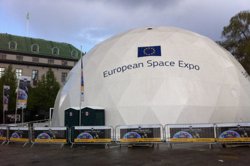 Major challenges
'Space is not an aim in itself,' says Nico van Putten of the Netherlands Space Office. 'If one thing is to become clear during this conference, it is the many ways in which the space industry can contribute to some of the major challenges we face today: a sustainable future, food security, migration, security and economic development.'
For example, there will be focus on the European civilian satellite navigation system Galileo. The high level of accuracy of this system makes new applications possible, such as safer air transport, more efficient sea routes and even mobile applications to help blind people find their way.
Copernicus, the second large European satellite programme, focuses on the health of planet Earth. The first Sentinel satellites developed for this programme have been launched and are each observing certain aspects of the Earth. The Netherlands is particularly interested in the launch of the fifth Sentinel satellite in 2016, as this will carry Tropomi, an instrument developed and built in the Netherlands to measure global air quality at the neighbourhood level.
Additional information on the ESSC and registration details can be found at:
www.european-space-solutions.eu